Description
Onion Cutter Specification:
Onion Cutter Material: high quality PP resin + stainless steel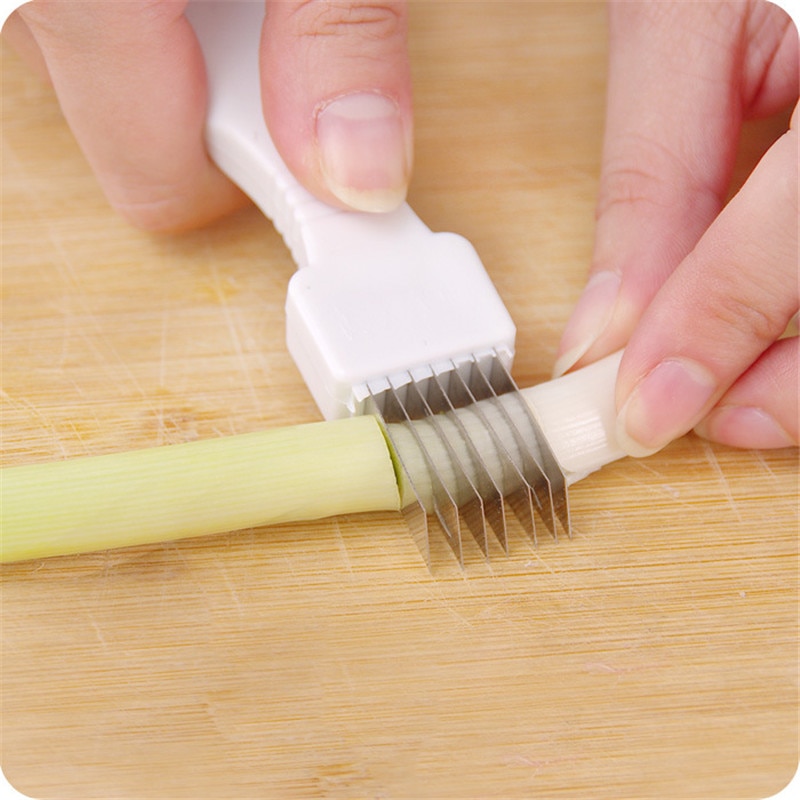 Onion Cutter Features:
This Shred Silk The Knife is made of high-quality, it is safe, durable, safe sanitation, and easy to clean.
Slice green onion, welsh onion, scallions, chili, similar vegetables in seconds with effortless ease, you will have more time to enjoy gathering with your family or friends.
It has the hole at the top of the handle, it can hand in the kitchen when it is finished its job. This kitchen tool helps you save time and space.
Using imported stainless steel blades: high hardness, sharp blades, durable and not rusty.
Intimate protective cover: to avoid scratches, easy to store, and use, so you don't have to worry about any accidents while you store it.
Have 7 blades, Shred Silk, can be cut into sections: the distance between each steel knife is the same, you can quickly and evenly cut onion silk and onion sections.

SIX PRONGS — The 6 prongs are designed to make a wide variety of cuts in tomatoes, onions, carrots, beets, potatoes, and any kind of meat or vegetable. Designed to be dead easy to use, store, and clean.

HIGHLY VERSATILE — Perfect for making quick meals from healthy veggies or fruits like apples, onions, carrots, zucchinis, cucumbers, cabbages, beetroots, turnips, rutabagas, cucumbers, radishes, potatoes, sweet potatoes, squashes, and more. Works great even for long and wide vegetables.

NON-SLIP HANDLE makes your holding more comfortable. Convenient style kitchen tool finger guard & finger protector avoid hurting when slicing and dicing, creative design tools ideal cute gift for cook housewife, chef, and kitchen worker to make the cooking job more funny and convenient.

USAGE SCENARIO — Not just designed for onions. can also be used for other hard ingredients such as fruits, potatoes, carrots, lemons, and even garlic. the vegetable holder can also be used as a meat tenderizer. Long steel needle penetrates deeply, into the meat to improve its taste. It is also easy to clean after use. light in weight, everyone can use it for cooking.
Package includes:
Please follow and like us: