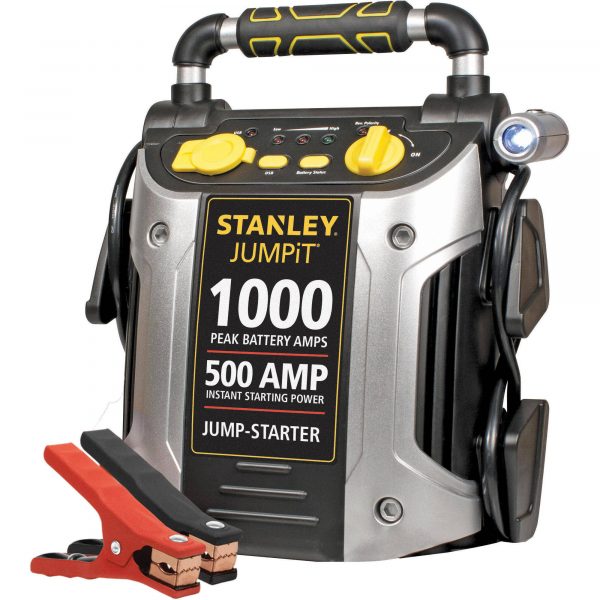 Stanley J509 1000 Peak Amp Jump Starter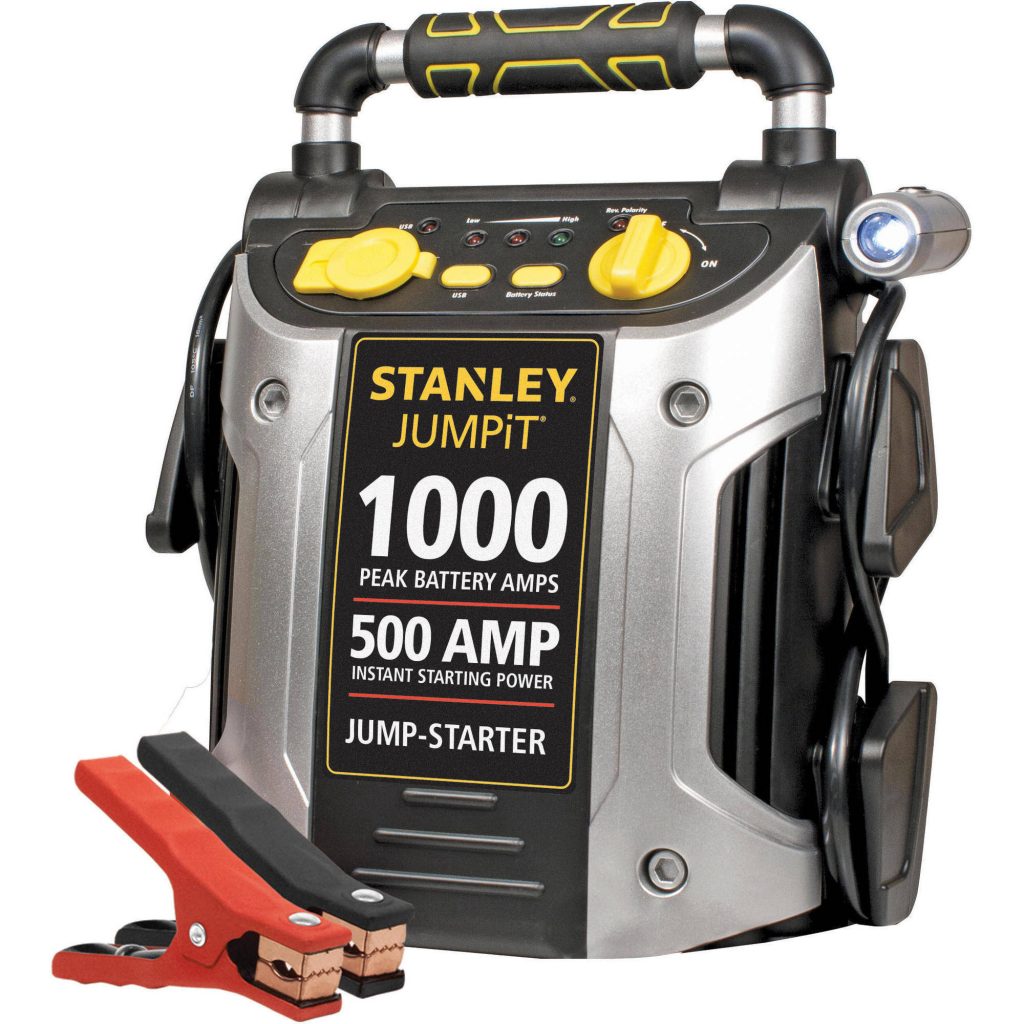 The Stanley J509 500 amp jump starter can restart your vehicle instantly, without the need for another vehicle. The jump starter can re-start a wide range of vehicles including most V8 engines.
Stanley J509 1000 peak Amp Product Description
The Stanley J509 1000 Peak Amp Jump Starter offers a convenient, portable way to jump-start your battery without the need of another vehicle. All you have to do is to simply attach the clamps. When the clamps are connected improperly an alarm will buzz, to alert you to switch the clamps before turning on the unit. The jump starter includes 12-volt and USB outlets plus a built in 120 volt AC charger. The jump starter provides 500 instant cranking amps and 1000 peak cranking amps. The unit is safe enough as it has heavy duty metal clamps and Number 6 AWG cables. It also has a 270 degrees rotating high powered LED light and a charge indicator. They Stanley 1000 Peak Amp Jump Starter is just the right device for roadside emergencies or daily use.
Whether it's extreme heat or cold or you simply left the lights on, batteries die for all sorts of reasons. Don't worry they can be jump started with the help of Stanley J509. This Stanley series jump starter allow you to jump your battery back to life without the need of another vehicle. Its simple to use as you just need to connect the clamps to the battery, turn on the switch and start your vehicle. You cant hook the wrong because if you do a alarm will sound to remind you to switch the clamps to the right polarity. This makes the device even more safer.
The Stanley series jump starters has you covered with a USB power port and 12 volt DC outlet. So if the lights go out due to a weather emergency or you just to need to charge your cell phone, tablet or laptop, you're good to go. Portable power on the go!
Charging Stanley jump starter after use is very easy. You just need a household extension cord and you're set. Pull back the cover on the back of the jumper, plug in the extension cord and charge it until the LED indicator light turns green.
Charge two devices at once with the 12 volt DC port and the USB
The 120 PSI compressor with a brass tipped Sure Fit nozzle is just great for inflating your car tire, sports equipment, bicycle tires etc.
The optional DC plug also allows you to charge Stanley's jump starters with your vehicle's DC port. Plug it in and keep it ready to go at a moment's notice
The ultra bright LED light swivels 270 degrees and provide you light.
It offers both 12-volt and USB outlets to charge personal electronics
High-powered LED light that rotates 270 degrees
Reverse polarity alarm to alert when there is an improper connection
Power and charge indicator
500 instant starting Amps/1000 PEAK battery amps.
All Metal Powder Coated Clamps
Built- in 120V AC charger recharges unit with standard household extension cord
Great Product
There are so many jump starters available in the market. I've had the smaller 200 amp versions but that was of no use when the car was fully dead. I don't drive a tank or a pick-up with a Hemi, so it's not like I needed a lot of juice. The little one just didn't have the power. The person that was kind enough to brave a torrential downpour and give me a jump had a Stanley J509 500 amp that worked like a charm.

This thing is a life saver. Off of one charge, it's jump started over five cars and one was an Avalanche with a stone dead battery. The battery has held a charge for over a year, even being in my trunk the whole time. On top of being beefy enough to start every vehicle I've attached it to. There's an attached LED mini-spotlight comparable to a medium mag-lite, an air compressor. It just need a USB port and a socket to charge a gadget for hours without being near a computer. This thing has some heft but I didn't find it obnoxiously heavy. It certainly weighed less than a regular car battery!
So Good I Bought it Twice
I drive a honda ridgeline pickup truck and my wife drive a honda civic. I've been looking for a decent jumpstarter that would be powerful enough for both of our vehicles. Rather then having 2 various models it just seemed easier to get two identical units. After reading reviews on several various jump-starters I opted for this model.

Now the most negative thing I could find about this thing was it lacked a flat charger so you couldn't leave it plugged in. For me that's not even a factor, after all I bought this to charge it and then put it in the trunk of my wifes car and in the cargo area of my truck. I don't intend on leaving this plugged in. So if you plan on using this HOW IT IS DESIGNED then you too don't even need to worry about the lack of a float charger.

That being said, the unit itself is a bit heavy, imagine picking up really big battery, that's essentially what this is. It has some weight to it.

The Stanley J509 jumpstarter itself also features an interesting little light that pivots as well as an air compressor. I've heard/read back reviews on the air compressor, for me it's not why I bought it. But initial checks it looks like it works fine and even has somewhere to store the air hose which is really nice.
Worth Its Weight In Gold
I haven't used all the features, but I recently had a electrical problem in my car. The alternator was draining my battery, and I had to unplug it every time. I got the jump starter after my car was fixed, but then I forgot to turn my lights off two days later. This thing jumped my car just fine.
I also have a lot of problems with my tires in the winter, air slowly leaks out of one of my tires. This will come in handy then, as well. It'll save me a couple bucks going to the gas station to fill up air.
Awesome!
Plenty of jump start power. Purchased 1 from Amazon & another from my local hardware store. Used 4 times in the last few days on our fleet vehicles. Cars/trucks/vans…no problems. Charging is easy you just need to plug it in with an ordinary household AC extension cord or use the DC adapter supplied. Also, this unit has an on/off switch. My old one didn't so the terminals were 'HOT' all the time. Life saver device, well worth the bucks!
Peace of Mind
This starter pack is useful if you have a car that sits a lot, and you cannot use a float/trickle charger. I telecommute most of the time, so my car battery does not get charged much by the alternator. I noticed that the battery in my car was no longer zippy so I bought this starter pack to supplement the car battery. I would use it multiple times before I recharged the pack. The car battery eventually became severely damaged due to lack of use/charge and this pack started the car up on the first try so I could get to Sears.

Stanley recommends that this pack be charged every month, regardless if it is used or not. After the purchase of a new car battery, the jump pack sat in my car for a while, but still held a charge. It was able to start the car of a stranded motorist after not being charged for weeks.

Note that this starter pack cannot run a tire pump from the cigarette lighter outlet as the amp draw is limited to .5amp. Get a different unit if you plan on using it for this purpose. The LED light is quite dim, but better than nothing when you are on the side of the road without a flashlight.
Good Product But…..
Good product but a year or so down the road is when it lets you down, it will soon be taking up space in my garage next to the black and decker I replaced with it, overheats half way through airing up my vehicle also… the light might still work though so I might be left stranded but at least I will see where I am stranded. Now I will search for an American made quality one and be done with it which would've been cheaper had I done that from the start.

1. No charge cord. You have to use a 3-prong extension cord to recharge this.
Please follow and like us: