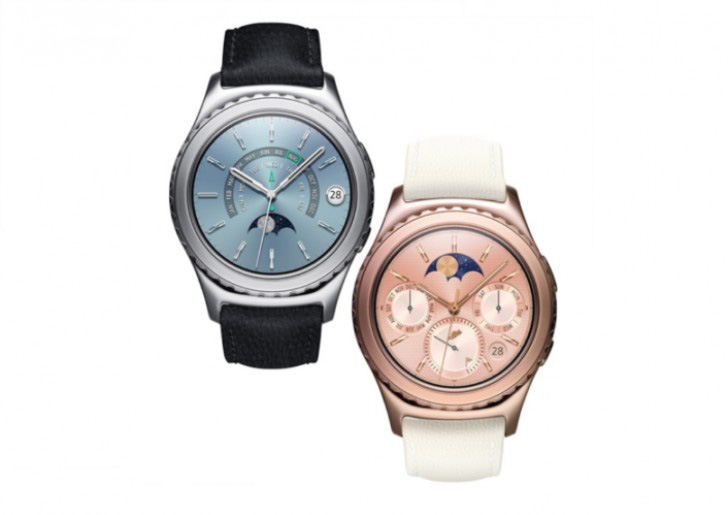 Samsung Gear S2 - Classic Platinum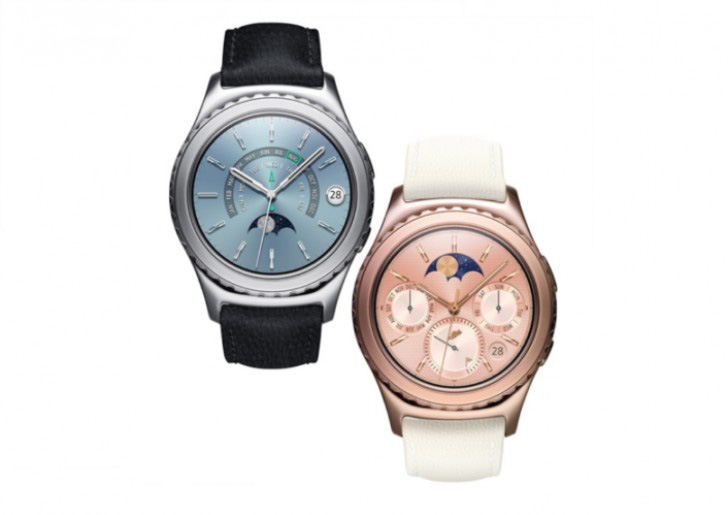 Now you can leave a style statement with the Samsung Gear S2 classic Platinum. Genuine Leather, precious metal and exceptional finishes come together to create a sophisticated wearable that goes with anything. The intuitive circular face and bezel let you navigate effortlessly to get to what you need. The stunning Samsung Gear S2 classic Platinum lets you fetch the best out of each second of your day with access to important notifications at a glance.
Size (LWH): 1.72 inches, 1.57 inches, 0.45 inches
Weight: 12 ounces
Battery Type: Lithium Ion
Great Looking and Smooth Operation Watch
I picked this up when I upgraded to the Note 7. The Note 7 paired with the Gear S2 Classic Platinum was by far the best looking and functional combination out of all the phone and wearable devices. The operating system is so much smoother and the customization on the devised is so much better that the Apple ones. The watch felt so good compared to the competition, its smooth dial and touch screen functions kill the Apple watch in so many ways. Great product and worth the discount you receive buying it used from the Amazon warehouse. Just know when you are dealing with Amazon you are getting quality service and product.
Apple should learn something from this watch
Holy cow I am in love with this watch. It looks like an actual watch and feels very durable. I've already bumped it up against some stainless steal tables and not a single mark. The bands are a bit difficult to get out, but that is meant to make sure that they don't fall out easily too. The screen is beautiful and I just love the satisfying click of the bezel. This is a must have for any Samsung Gear s2 Classic Platinum phone owner. I chose the classic over the sport because I wanted something I thought was similar to my iWatch. I must say this is a thousand times better then the iWatch. I LOVE that it has a keyboard for sending a message or messenger message back. I don't have to speak to it and look weird in front of others. Also, the speech to text is on point. It's totally worth the money.
First smartwatch and couldn't be happier
First smart watch ever… couldn't be more pleased.

I have been fairly skeptical of how useful a Samsung Gear s2 Classic Platinum smartwatch would be… i have some nice watches but find myself only wearing them on occasion. But having done some reading about 'why' i'd want one, I took the plunge and I have to say, I'm glad I did.
And already happily in the Samsung ecosystem, I was pleased to see them release something to replace the original Gear and even more pleased with the shape and style of this new S2….
Pros – I no longer check my phone everytime it buzzes or sends me notification, i can flick my wrist and review them and delete or send the notification away much faster… my phone now uses about half the battery in it's normal day than pre-watch! I've also started to get the hang of using the S-Voice (Samsungs version of Siri / Google Now) and though it seems to be slower and not as refined as the others, it does the job fairly well. It's nicely incorporated into the Navigation (Here Maps by Nokia) and displays distance to / turn direction on the watch face. And will buzz your wrist coming up to that turn. Though I would normally use Waze or Google Maps on my phone, I find this a nice little addition for when i don't want to bother 🙂 S-Voice can be used to open other apps, compose and send texts, so as I get more used to it, I'm finding it more versatile. Another benefit is that the classic has a 20mm standard watch straps so you can change straps with anything. I ordered a black metal band strap to go with the watch as i'm not a big fan of leather straps and it works a treat. I'm even happier with my watch now. The other standout feature of this watch is it's bezel, only smartwatch that has this. It makes scrolling down messages and through menus simply efficient. And especially scrolling down messages, where your fingers aren't blocking the text swiping … And lastly, the build quality and design is just simply awesome. Battery is outstanding also, the watch goes through a couple of days full use.

Meets all my needs
My use case was simple.  I just wanted my watch to notify me of emails and texts (because I keep my phone muted to not interrupt meetings), heart rate and pedometer, lots of cool watch faces, and other cool and smart features (timer, calendar, weather, news, sport game alerts, etc…) This does them all.
I was interested in a smart watch since they first came out, but I waited for years. This one had 2 strong features. First, it is not nearly a bulky as the competitors, and I prefer the round face. Second, it is the most intuitive design I have her seen. The spinning bevel edge is delightful to spin through screens or increment up and down.

The ease of telling my child I am pulling in to pick them up, just with a few clicks. Seeing who is calling by glancing at my wrist, and possibly sending an autoreply text. Responding to my wife's text during a very engaging meeting without pulling my phone out. Once again having the one easy to lookup on my wrist and lots of elegant, sporty, and entertaining watch faces to choose from.

I load plenty of images on it, and music, so I can stream music to my Bluetooth headset. Works great, but the music seems to really drain the battery.

I run my brightness at 3, which is plenty bright. I leave my watch on always on mode, which always displays the time. It takes more battery, but like that feature, so I can glance down for the time without flicking my wrist. I know some watch faces that burn more battery, and others that are good battery savers. I keep tabs on battery life and toggle them as needed. I sometimes use the flaunt app, that leaves the full watchface on, when I have lots of extra battery and want to show off some extra fun watch faces.
Speaking of battery, I charge it every night (charges very fast… Faster than my phone). I tracked my battery consumption in detail for weeks, to make sure it would not die on me. I have had this for 6 months, and never had my battery die on me yet. Several days were close, because I was playing with it, testing it, running really long days, or using it extensively. It has a battery saving mode when it gets down to around 15%. I would use that, if I was out and really needed to save battery, but I usually just opt to keep it in normal mode.

I don't use the Mic a lot, but it is handy. For example, had my hands full defrosting a freezer, so used hands free Mic to set a timer. Asking quick questions is cool, and getting an answer if the wrist.

A speaker would be cool, to take a quick call without pulling my phone out, but when I have my Bluetooth headset, that's not an issue.

The watch band was ok. I got a metal black band instead and definitely prefer that.

Big fan of this product.

For the style conscious
Your love for this watch will depend on what you're looking for. I was looking for a smart watch that looks like a real (round) watch with style, form and function. I don't care as much about having tons of different apps available. I just want to have some cool watch faces and the ability to get notifications and read texts and emails.

If you're looking for a slim, super-stylish smart watch that looks great even on smaller wrists, has *incredible* battery life (I get two to three days with regular use, and it charges up super-fast, too), an OS that's elegantly tailored to the round hardware, and does everything it advertises very well, then this is the watch for you. I couldn't be happier with it.
Not Terrible But Not Worth The Money
Okay, lets start of by saying samsung gear s2 classic platinum did get a bunch of stuff right. For starters, the design on the sport is comfortable and attractive with a build quality to match. I swear if other smartwatch makers don't copy the bezel they're just missing out. The Tizen OS they use instead of Android wear is very responsive, fluid, and clever in design…but that isn't enough for it to stand on.

This watches fatal flaw is in its 3rd party software. As nice as Tizen is to use, there isn't much to use it for. There are barely any apps supported on this platform and the ones it has are not for most people. The fitness features are really good, but there isn't enough to them. The heart rate monitor was very accurate but it seemed to ignore that I told it to take my heart rate every 15 minutes. It only took it when I requested it which really defeats the purpose of this being a fancy fitbit. Worst of all were the watch faces. Since I wanted to use this mainly for fitness, I wanted an easy to read, digital watch face that displayed my steps and heart rate and calories burned. I spent a good 10 minutes hunting watchfaces but almost every watchface was an analog circular design. The stupid thing only comes with about 2 digital watchfaces to begin with.

Realistically, this thing is only good as a pretty, fancy fitbit. There really isn't any functionality on top of that.
Looks Nice. Screen is awesome. Notification customization works really quickly. Great battery life.
Need something to track sleep. No speaker. 
Please follow and like us: