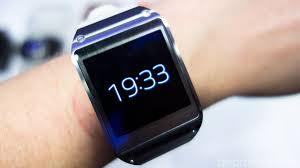 Samsung Galaxy Gear Smartwatch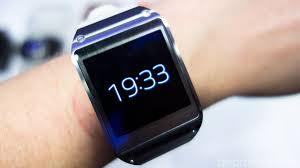 Samsung Galaxy Gear Smartwatch Color: Jet Black | Product Packaging: Standard Packaging
Size (LWH): 4.05 inches, 4.25 inches, 3.26 inches
Weight: 9.92 ounces
Color: Jet Black
Product Packaging: Standard Packaging
The Samsung Galaxy Gear Smartwatch has redefined the way to stay connected. Samsung Galaxy Gear takes the smartphone experience to your wrist and keeps you in touch with the world with its glance notifications. You can keep up with calls, texts and emails. The watch features a full metal body design a brilliant 1.63-inch Super AMOLED screen, and a comfortable strap. Connected to your Galaxy smartphone via low power Bluetooth, Galaxy Gear allows for discreet notifications, hands-free calling, music control, S Voice access and an array of exceptional features.
The Essence of Cool
 After getting the actual Galaxy Gear Manager downloaded from the Samsung website and installed on my Samsung Galaxy Gear Smartwatch (despite Google's repeated attempts to block the installation) I was finally able to manually pair the Gear with the Phone. It was easy to do and took less that a minute, once I was able to figure out that the pairing process required me to manually hit the little checkmark icon that was being displayed on the Gear. After getting that part understood, the pairing was complete within seconds. The software needs to be updated immediately if you want the added notifications features to work, and let's face it, who doesn't.

Now, on to the device itself. My opinion is that the Gear is sturdy, solid and well made. The bluetooth connectivity range is presently about 15 to 20 feet. Once you get past that range, the Gear will notify you that connectivity has been lost. This is not a problem for me since I generally have my phone close by. When I do go further away and lose connectivity, the connection is immediately re-established when I get back proximity with my phone.

The display is a bit large and will somewhat overwhelm a small wrist. My wrist is medium size at best, so the watch looks pretty large, but not obnoxiously so. For women, who may have even smaller wrists, the Gear is very big. I have noticed many times over, however, that the younger women seem to be favoring these extremely large size watches anyway, so with that in mind, the Samsung Galaxy Gear Smartwatch is in vogue. The display is crystal clear, bright and very easy to see.

Functionally, the Gear Rocks! I can receive and initiate calls either manually or via S Voice. I can receive and read texts and then send texts using S Voice. The audio quality that comes though its tiny pin hole sized speaker is articulate and clear, but not too loud. I can receive notifications of incoming texts, voicemails and emails. You can read your email right on the Gear display.
The Gear has several different watch style settings so you can make it look like an old style watch if you want or a modern display, all as you please. With the new software update, you can customize the Gear far better now that when it was first released. I have no doubt that future software and firmware updates will only improve the functionality of this awesome product.

I work in an office of about 25 people. I'm the first to get the Samsung Galaxy Gear Smartwatch and everyone that I work with loves this thing. The Gear just exudes cool. Even if your aren't, the Gear is!

I recommend this product without reservation.

Great For Moms
I am a mom and have my hands full and am running around all the time. I don't want to wear my phone, note 3. I like it in my purse. This watch is great. I don't miss my calls looking for it in my huge bag. I just use my watch. I keep my phone on mute and my watch vibrates. This is great when the baby is napping. I also like the find my phone feature on the Samsung Galaxy Gear Smartwatch because I always set it down somewhere and forget where I put it. It also vibrates when I get messages or emails. But this setting can be changed to each person's preference. This was a birthday gift. I don't think I would have spent the money on myself. But I love the convenience plus it looks cool. I had the black one first and returned it because it was very masculine.
My husband loves I answer his calls now.

You cant write emails or sms messages and can only send your custom preprogrammed sms message on this phone.

Excellent Service and Product
I had a problem in the beginning but they guided me along and I resolved the problem. It was because I was way ahead of myself and didn't follow the directions. I love these watches. The first one I bought was in December 2012. The only reason I am looking for another one is that I broke the band on the black one I had. Let me tell you that I put that watch through more than you could possibly believe. I spent a lot of time outside doing physical labor, banged it up against trees, doors whatever, and dropped it and banged it up against anything that happened to be sticking out but it never stopped working. As far as I can see, there is no other watch on the market that has the features that I want like this Samsung Galaxy Gear Smartwatch. I have no intention of buying a new watch unless all my Samsung products would fail all at once. It is a Dick Tracy watch that I used to dream about that would be reality. Back when I was a kid in the 50s. The nice part about this is since I couldn't get a black band. I got a whole new gear with an orange setup which is what I wanted the first place. Orange is my favorite color. The sellers service was amazing.
I got it way ahead of the timeframe they said it would be here and as soon as I contacted them they were on the problem right away. Pleasure to work with. Five star rating for sure! Thank you, Patrick Gustafson, way ahead of me the okay

Don't Believe The Bad Reviews
These professional companies used the watch for 1 hour and it was loaded with the original software. Look at all the overwhelming positive reviews from real users here on Amazon.

One negative is that you have to use their charging cradle. It definitely needs the ability to plug a mini USB right into it since everyone has one of those and you don't want to carry the cradle everywhere.
On same subject the battery is pretty good. No problem getting through day. And I don't need to have watch working when I am sleeping so just charge with your phone.

This watch looks, feels and works awesome. And now with the new notification capability it's a must have for busy people. Even if you just use it for the watch and weather function it's a nice product. The camera is pretty cool. It is so fast to take a pic that you would otherwise miss. It's actually pretty descent quality too. And there is a hidden macro function to take closeups.

I think the price is right on. Any descent cheap watch is $300. And this one you can answer your friggin phone with!

So. If you like technology and gadgets then you will love the watch.

Watch And More
This item is more of a guilty pleasure. Not necessarily needed but fun to have. I've only had it for a couple of days and till trying to learn all the uses for it. I get all my notices both email and texts without having to remove my phone from my pocket. Takes decent pictures and sends them to the phone for storage also.
If you are a gadget person then this is a nice thing to have. Contacts and Phone logs are easy to find and I have used it to make and answer calls. reply to texts with ease by using S voice. May not be for everyone but a nice addition to my Samsung Note 2.
Battery Dies and Does Not Come Back
When I first purchased the Galaxy Gear I was excited about the technology involved and confident that Samsung was cutting edge.
After a couple months I began to have issues with the sound if someone called. The clarity wasn't there.

The final straw : When you don't use the watch for a bit if the battery goes dead there is no fix on getting it going again. I've looked up several blogs on this issue and no one seems to have an answer.
I called tech support and the only thing they could tell me is that my closest tech center is in Plano Texas. Over 800 miles away or I could pay $70 to get it looked at.

When I asked if the technology had improved with the new watches they couldn't tell me if this issue has been resolved.

Bottom line : This watch is not a good investment and unfortunately I have purchased this twice. Once for my daughter and once for me.
If anyone knows of a better system please share. Having been a Samsung supporter for years this has left me uncertain of my future with any Samsung products.

Found an article online. Not through Samsung about connecting directly to computer to charge. It charges at 5% and it did work. Still not happy with Samsung.
Good build quality
Display can still be read after backlight shuts down
Nice size – not too big
Good app availability
good battery life
vibrate mode is loud and can not be adjusted
no voice note capability
confusing navigation
Please follow and like us: