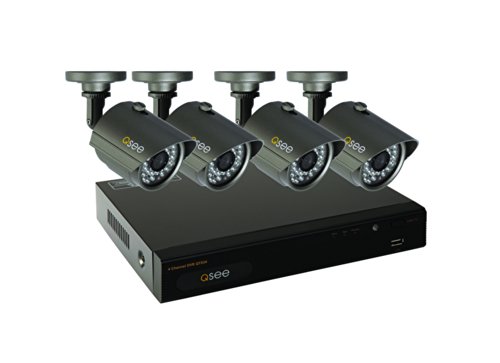 Q-See QT534-4E4-5 4 Channel Full D1 Surveillance System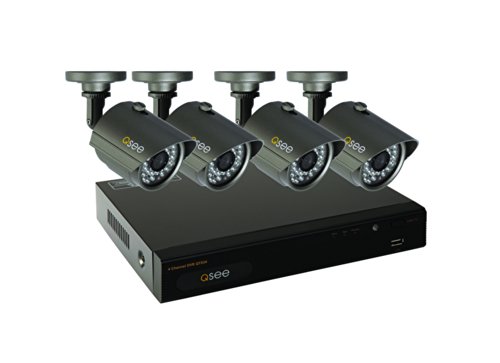 Premium Package with Real-Time Recording Resolution. 
Now you can gain a set of extra eyes with the Q-See QT534-4E4-5 premium 4 channel bundle with 4 cameras, watch over your property or assets in complete peace and at high resolution. This DVR provides you with real-time D1 resolution, and it offers four-times the detail and clarity of conventional CIF resolution! You cant have a better security camera. Also at 120 FPS (30FPS per channel) recorded video will appear smooth and fluid. Not only can you watch over your back yard, office, driveway or any other place with confidence, you can rest assured that it will all be captured in real-time so you never miss a moment ever!
High Resolution Camera Bundle. 
The QM6510B cameras are premium cameras that offer 700 TVL of resolution. Coupled with the DVR"s real-time D1 resolution, this system offers large, detailed images that actually deliver! Enjoy the convenience and security of a complete system with the four included high resolution cameras. 
The Best Night Vision You Can Get
Darkness doesn't stop these cameras for sure. Thanks to 36 high-quality infrared LEDs, the QM6510B can see up to an impressive 100ft in the dark while still offering the same quality. The same clarity as you would expect in the day time. Day or night, the camera's high resolution capabilities and infrared cut filter ensure images will be clear, crisp and accurate every time.
 Q-see always capture the details with this DVR"s Real-time Full D1 resolution. D1 provides a larger, detailed image, at a full 30 FPS, that helps you identify people and objects at a reasonable distance so clearly. A full 30FPS means recorded video on all channels will be smooth and fluid.
4 Channel DVR with Real-Time Full D1 Resolution 
4 Cameras with 700 TV Lines of Resolution 
100 feet of  best ever night vision 
HDMI Port for High Resolution Viewing Options (HDMI cable is included) 
Free Apps for iPhone, iPad, Windows Phone and Android. Mac and PC compatible 
Pre-Installed 500GB Hard Drive 
Fantastically Simple System 
I have demoed many Q-See systems from high end to low end and this falls in the middle of the road. It's very easy to set up and the quality of video from the cameras is top notch. You will need a PC with a monitor to get the full capabilities.

Simply use the large fold out poster that comes with the system. Open the box, lay everything out and go over the details of the installation while referring back to the fold out. The night vision is really nice out to 75 to 100 feet, after that it's a little hard to distinguish what's moving. Who knows maybe you can spot bigfoot in the woods.

The system is very straight forward, easy to setup and the waterproof cameras are of high quality. You will not have no issues with installing this in less than 3-4 hours, including securing cameras in location. If you are looking for a baseline system that will not break the back then this is the unit for you.
Great Value And Great Quality
Super easy to use and set up. It is truly a plug and play. Adds to my Q-See camera app on my phone pretty easily as well.
Good For Security Purpose
Works as advertised, picture is good for security purposes. The mobile app for IPhone works well remotely from anywhere.
Great Product And Excellent Support Experience
I actually bought and installed this system for my father in law about 6 months ago. It took about 3 hours to run the wires and install. Everything has worked wonderfully until this week when he called to tell me they had a power outage and now he can't log into the system. He lives far away and I wasn't able to help him over the phone and had a question about a password reset, which brings me to the reason I'm writing the review today. I logged into the Q-See website and was quickly able to pull up the online user manual. I couldn't find the answer there so I submitted an email to their Support. I had a good answer back within a few minutes! It was not an automated response either. So, the product is works great and I'm happy to say I had an excellent experience with their support team as well.
Easy Install
Easy install. I especially love the power feed and signal feed in the same layout.
It Is Okay
Cameras seem to be pretty good quality, and for stand-alone use, its easy enough to set up. It's not hard to use in a basic sense, and you can figure out a lot of stuff, but the instructions are piss poor to nonexistent. Getting it set up for remote access is annoying, and the network settings are poorly documented (purpose, etc) but with enough screwing around you can figure out what ports to forward and what you can and can't switch. The remote viewing software for windows is cranky when it does run and the web site you download it from is pretty bad… there are a TON of different programs and they tend to keep old versions with documented problems still available for download alongside the newer versions, but it's hard to tell what's what. It's a giant hodgepodge. That said, the Android viewers, while still poorly designed from a UI perspective, get the job done far more reliably. So while I there are problems, it's still probably the best camera system you can get for the money, and if you have the patients and know-how to set up the advanced features, or if you just don't need the advanced features, then this system will be fine, My only real regret is not getting the bigger system. You always need more cameras than you think.
Please follow and like us: