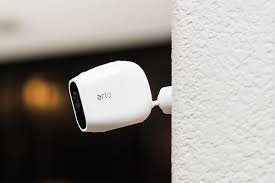 Netgear Arlo VMC3040 Q-1080P wired Camera with Audio/Cloud storage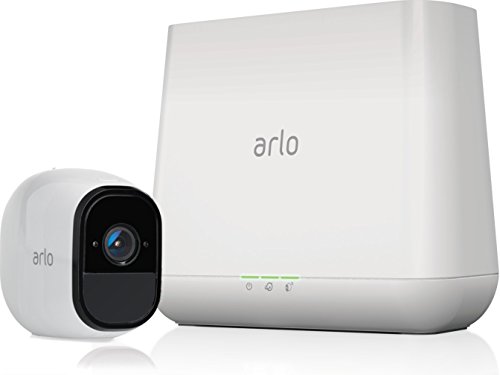 Style: 1 Wired Camera
Netgear Arlo Q HD security camera provide perfect vision and sound. Experience a new sense of security with 1080p HD video, night vision, and 2-way audio. Arlo Q alerts you whenever motion or sound is detected and notifies you with instant alerts so you never miss an important moment again.
Save on expensive subscription fees with FREE cloud storage that lets you view, share, and download recordings from the past 7 days at no cost. No contract required.
130-degree field of view lens lets you see the whole room. Stream live video 24/7 and watch past recordings in sharp 1080p HD resolution from anywhere in the world using your smartphone, tablet, or computer. 
Receive instant alerts on your mobile phone whenever motion or sound is detected
Simple DIY setup – get

Arlo Q

up and running in less than 10 minutes using the free

Arlo

mobile or web app. Enhanced night vision capability lets you see clearly even in total darkness.
Built-in mic and speaker enable two-way communication so you can listen in and talkback. Wifi Range – 300 feet line of sight
Wow Just Wow..
I've never ever written a review on the first day. I've always actually been secretly mad at people who did – how could you possibly know enough to evaluate the product in one day?

For this one, I will change my tune and of course, update as necessary. I purchased the Netgear Arlo camera mainly to follow up on my naughty pets. It took me all of 10 minutes to set up. If anything, the hardest part is figuring out how to view the info from your computer instead of your phone. I did strategize a good spot for the camera that said, it covers 90% of my living room and the portion of the kitchen where the pets eat. So needless to say, I'm happy. Zooming in works great on my phone. Notifications are being sent to me when my cats are running around, I need to fix that. 
Edit: After a little more use, still in love. One of the best things about this is that it's always online if I want to just check in on my pets. And the motion detectors send me messages if they're extra active.
The camera would definitely catch video of any stranger coming in but I'm not really worried about that, just an added bonus. The free 7-day video coverage I think is more than enough for my purposes.
My next out of town trip is going to be much more stress free knowing I can check on the pets whenever I need to!
Take the Leap and Buy
It is the best Netgear Arlo camera system! We were hesitant to buy them after seeing the price tag, but we took the leap! I haven't looked back since. They are so flexible for us as compared to a regular baby video monitor. We live in a larger house, so it is nice to be able to move the cameras around to see all the kids where ever they may run! We were so impressed we went and bought the Arlo Q to solve the battery problem. The only problem with the Arlo cameras is that they require the tiny battery very frequently as they run low QUICKLY if you watch the cameras in "live view" often. The Arlo Q is wall plug in and solved that problem! We placed that camera in the room we use constant viewing in. Take the plunge and purchase this system!
Fantastic Security Camera for home
I had to choose between Arlo Q and Nestcam. Eventually I went with Arlo because I wanted to save on Nestcam's monthly subscription plans. Netgear allows you to store 7 days of free in their cloud. The app is user friendly and easy. You can livestream from your home and you can also arm/disarm from your phone. Also allows you to talk to whoever is in the room and hear them, too. I was able to set up my cameras in no time although I am not that techie. I bought 2 Arlo Q (wired) cameras and one wireless version for outdoors.
I am very happy with this system, so I recently added a fourth wireless camera.
My only complaint is that the wireless camera has to "wake" up to record video so it is conceivable that a super quick thief can make the most of this time lag and take your Amazon package off your front porch and might not get recorded. However, if you can hardwire the Arlo Q for outdoors and weatherproof your camera, you might be better off than going with the wireless. Also,  Arlo system is now compatible with and can be included in the Samsung SmartThings hub, which is cool.

Solid Reliable
Arlo's audio capability and its ability to use AC power made me purchase this camera as my main camera. It comes with a permanently attached mount that can be simply placed on a horizontal surface, mounted with screws (or adhesives) to a vertical surface or attached to a metal surface as the mount is also magnetic. You can easily pivot the camera on the mount to the angle you want the camera to observe and it will hold that position reliably. The video quality is superb in both daylight and in the dark. The widest viewing angle comes when you have it at the highest video quality. 
The audio quality is acceptable as a remote live monitor and can be used to trigger recordings and alarms sort of like an audio "motion detector". You can even speak through it although it is like using an old fashion walkie-talkie. As spoiled as I am by high quality audio in cellphones or using Face Time and Skype I see using the Arlo Q to talk to pets rather than humans as what I would use this feature for.
I think the Arlo Q makes a solid core camera and then supplementing with additional battery operated Arlo cameras for their flexible location capability (although no audio capability) is the best bang for the buck for a video home security set up.
Received one of these Friday. Not impressed.

Setup is difficult primarily due to incomplete instructions. First issue was it would not allow me to use my existing Netgear account to log on. Second was that you cannot create a new account until you confirm your logon address by responding to an email you don't know is coming. Never would have known this until I got fed up and took a break. Read the email on PC then tried again. Camera also initiated a firmware update that made me start over.

After finally getting on line, things seemed on track until I tried push to talk feature. Did not work on my phone or tablet. Called Arlo support and told camera seemed defective and send it back to Amazon.

Replacement came today. Setup went like a breeze as I no longer needed to create an account and expected the firmware upgrade.
Did learn that takes a while so go take a break until you are sure it is complete. Everything worked EXCEPT push to talk. Called again and expected "blame the customer support" but surprisingly they did not treat me as an idiot. They had me change the password and they took control from their end.
Kind of creepy knowing they are watching you so I'd pick up and comb your hair before calling them.
1080p resolution.
7 days of free burst recordings on cloud storage.
Small size with magnetic base.
Utilizes commonly available USB tablet power source.
Camera light sensitivity adjustment.
The Alro app could be more intuitive.
A weather resistant version of the AC powered Arlo Q is required.
The price is a bit on higher side.
Please follow and like us: