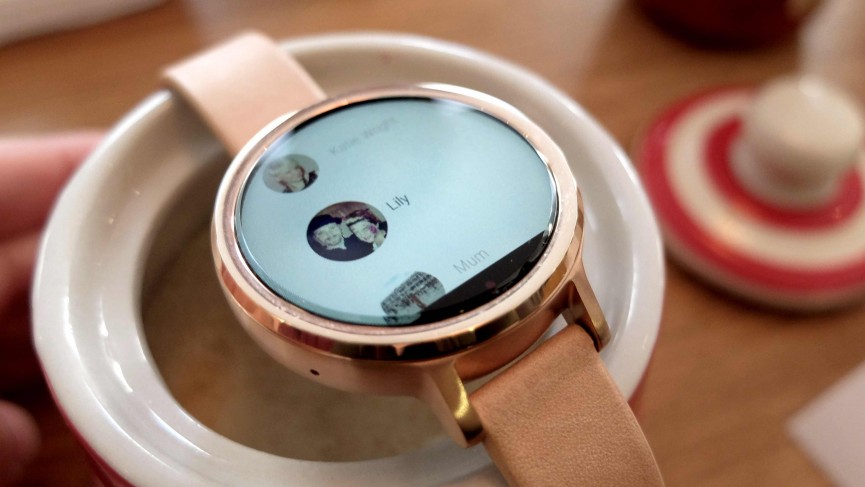 Motorola Moto 360 (2nd Gen.) - Womens 42mm, Silver with Silver Metal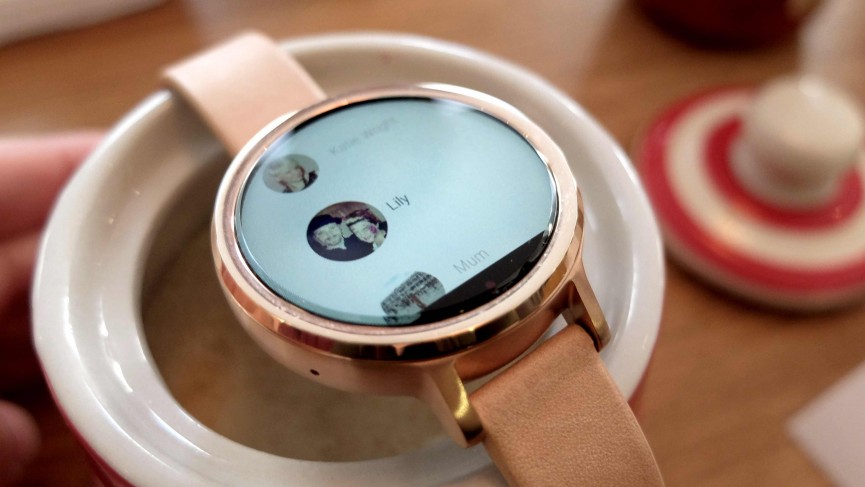 Motorola Moto 360 (2nd Gen.)
Offer Type: Womens 42 millimeter
Color: Silver
Size (LWH): 1.65 inches, 0.45 inches, 0.63 inches
The Motorola Moto 360 streamlines your mobile life by delivering the information that matters to you, giving you more time to do the things you love. It comes in different designs made especially for men or women. You deserve choice when it comes to what you wear on your wrist, it's easy to choose the color, size, and style that fits you best.
Updates, not interruptions: The watch keeps you updated by getting messages, news, weather, and more without constantly having to check your phone. 
Men's and women's collections: You can choose from modern designs made specifically for men or women, each one precision-crafted and built to last. Classic round design: With edge-to-edge glass and an exceptionally thin bezel, you see more all the way around. Quick-release bands for Motorola Moto 360 (2nd Gen) are designed to be swapped in seconds Motorola Moto 360
Body fitness tracker: Keep fit by tracking your steps, calories, and heart rate right from your wrist.
Beautiful Watch
This is a beautiful watch. I was so happy with the packaging, appearance , and always quick shipping from Amazon Prime.
I ordered it to go with the Note 7 unfortunately the note was recalled and I never got to pair it and use it. I reordered a iPhone 7 and many reviews said it doesn't pair with the 7 well so I had to return. I have had several smart watches this one was definitely looked much nicer and had great reviews.
Glad I Bought This Smartwatch
I was hesitant about buying a smartwatch because of possible short battery life and being too bulky. After using this smartphone for the last few months,
I'm really glad I bought it. The 42mm size is great and fits my wrist very well, and the thickness of the watch is just fine. It has a good solid feel, with just the right weight to make it feel like a premium watch.
Battery life has been amazingly good, as it can live for about a couple of days without charging. I normally put it on the wireless charger in the morning when I take a shower and get dressed for work, and it's fully charged and ready to go. It is definitely a great companion to my Samsung S6 and S7 smartphone, and the notification alerts work very well. As does the "Ok Google" voice operation.

Making My Life Easier
The watch is visually appealing. The bands change easily and with the custom faces you can dress this up or down to your liking. This watch is less annoying and has made having a cellphone on me all the time. I love being able to quickly see who's calling and if I want to answer it and read and respond to text's without having to take my phone out of the holster. With a Bluetooth earpiece it gets even better. While running or exercising, the heart rate monitor and step counter are also very helpful..
I like that when I'm out on my bike it can give me navigation to places so I can hear the directions in my earpiece in my helmet and glance at my wrist quickly if I need more detail. All the features I mentioned earlier come in handy if you have a motorcycle as well.

Great Smartwatch Would Buy Again
My job doesn't allow me to stop in the middle of a task to dig out my Nexus every time I get a text or email, however, with the Moto 360 2nd gen I can quickly glance at the screen and even reply quickly to texts without pulling out the phone. Wonderful product that gets more capabilities every week. Don't cheap out and forget a tempered glass screen cover, the cover is worth every penny in protection and is allot cheaper than a new screen.
When driving I can pause my Pandora music and even give a thumbs up or thumbs down from the smartwatch. I check email and delete it when at stoplights, check the best route to work, and while driving call someone from my address book on my phone without taking my eyes of the road. When the next iteration of Android wear comes out the smartwatch will be even better.

This Product is Fantastic
This product is fantastic. I got it 2 days after I ordered it and it came with 99% battery. When I first opened it, the setup was super easy and user friendly. The only down side was for the first few days the watch would die extremely quickly and would not even get through a half day. The way you have to fix this issue is put it on the charger for over 36 hours straight. after I did that my watch has never gone below 70%. I highly suggest charging it every night. Some people might be what if I have an iPhone, will it work? The answer is yes. I am running mine on my 3 year old iPhone 5s and it still works great. I can answer calls and reply to emails. The way you reply to emails on the iPhone is you must be using g mail and download the g mail app and change a few settings letting you receive and send email straight from your watch. If you are worried it will look like a toy, it is quite the opposite.
I have been using mine for about a month now and i can't remember a day when someone has not complimented it. It is extremely comfortable with the leather bands it has. If you are going to work out with it like i do to track many things such as steps and calories burned, i suggest getting a silicon band because the leather band just will not hold up to sweat purely because it is leather and it is supposed to look classy.
You can easily purchase a silicon band on amazon for about $15. I would not suggest playing sports with it because the glass may shatter if hit hard enough, but I would not worry about it because I have hit many tables and doorways with it and it still looks brand new like I just got it yesterday. Don't worry about its size, I have small wrists, and it looks perfect on me when I buckle it up tight. If you are still worried it is much better to be able to see the screen clearly with a slightly big watch than to have trouble viewing the screen because it is to small. Overall I highly suggest anyone who wants a nice watch should pick one up even if you have an iPhone because it looks a lot classier than the apple watch and has a larger screen option for easier viewing of the text.

This Watch is Sturdy
I've had this product for a little while now and I have to say that seeing some of the mixed reviews I was a little scared to buy it.
The watch is very sturdy and the band is very good quality. I saw that someone said the battery life isn't great but what do you expect from a product that is so small? I only have to charge this watch every two days with constant use. I even have watched youtube videos on it! How cool is that?
Anyways, the quality of the screen is wonderful and the watch is very responsive and coincides well with my LG V10 cell phone. It's also convenient to just check updates from your watch at a glance without pulling out your phone; which at the office is very useful. If you are looking for wearable technology that has some great use and functionality look no further.
A wonderful product and I will be looking forward to newer generations of this watch.
I Wanted To Like This
I really wanted to like this, I really did. The good: beautiful watch, color is great and wife loved it. The bad: 1) The response time of the watch is really slow, it takes forever to refresh and catch up to your finger swipe commands 2) it's not even 3 hours since I had the watch and it's already plagued with software issue, first the weather returns back an error, "something went wrong" can't connect, 2) when you go to the screen where you can change the face, all the screen are blacked out 3) Tried to do a system update and it's sits at 10% and finally quits to the main screen 4) I connected tech support and worked through all types of resets, reset this, reset that, factory reset, reinstall app on phone, power down power up and nothing worked, the tech support finally says this and I had enough " it's recommended you first pair with an android phone and then connect your iPhone" I replied "how can you assume I have android phone sitting around, I don't have an android phone" his response " that's our recommendation". So in short, if you have an iPhone this is useless, besides the fact it suppose to work with an iPhone, granted less features, but in this case it's useless. So if you have an iPhone DONT BUY THIS ! – they only reason why i even went an android wear watch route is because of the options, much elegant looking watches and nice variety, again the watch is beautiful and light but useless with a iPhone.
1. You cannot access most of your apps that are on your phone with this watch. . Apps randomly disappear and re appear.
Please follow and like us: